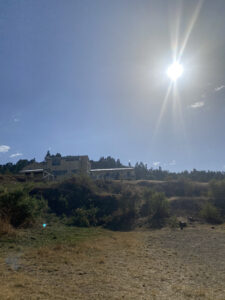 When we arrived in Gondar Wednesday morning we headed straight to the orphanage at BOH Children's Village.  Pulling in feels like returning home.  Most of the kids were at school, so we had some fun with the toddlers and preschoolers, met with staff and were welcomed with a coffee ceremony and lots of hugs and smiles.
As we spoke with one of the leaders of BOH, Mattie, we were overcome with gratitude and emotion at the fact that God has chosen us to be a part of helping these children.  Mattie recounted the dire circumstances that they were in prior to partnering with Haddis Ministries in 2019 and how they had prayed for help to come.  He closed his eyes and slowly said, "Without Haddis, I really don't think there would be a Bridge of Hope. We were struggling to meet even our most basic needs." "Now he said, we have an abundance." 
The nannies and cooks and staff do an amazing job caring for the children in the orphanage as well as in the community.  They exude joy and serve with overflowing love.  
We toured the property, checked on the well and other current projects and dreamed of the many ways that we can assist to develop the land to generate income and further this mission.  We were pleased to learn that even now during the dry season, the well is able to provide water to the entire orphanage, the school and to 40 additional needy families in the community each day.  This is an unimaginable blessing for them. 
As the day progressed, we passed out letters to some of the children from their sponsor families.  The kids are always so delighted to receive their letters and photos. Sponsorship has changed their lives and being with them has changed ours.
We ended the evening with what we thought would be a quick stop by the baby room for some sweet baby snuggles.  We were ushered into a room where they had just admitted two critically malnourished babies.  A precious two week old abandoned at a police station that couldn't weigh more than 3-4 pounds lay swaddled in a crib while an 8 month old, weighing only 8 pounds cried in his bed.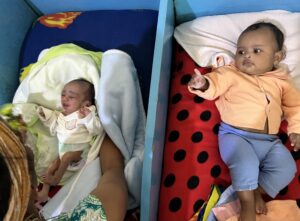 Their overwhelmed nanny recounted how she had cared for the 8 month old boy for the first 4 months of his life while his mother was treated for cancer in the hospital. He was discharged at a healthy 16 pounds.  But the baby's mother relapsed and she struggled to feed her infant and despite her efforts, the child became severely malnourished and she had to return him to orphanage in hopes that he would receive the care she was unable to provide.  
The babies are cared for through the Tesfa Project.  "Tesfa" means "hope" in Amharic and the project is designed to provide support to the orphanage so that they can care for these orphaned and abandoned babies.  The hope is for them to be adopted into a local Ethiopian family.  On the day we arrived, one of our babies had just been adopted.  He is the 6th Tesfa baby to be placed in a family.  
Currently, we support 9 baby beds in the Tesfa Project.  Mattie told us that every week they receive requests to take in more infants, but due to funding, they have to turn them away until a bed opens up.  We are praying about how we can provide additional support to increase the number of babies who can be cared for.  Mattie told us that Haddis Ministries has saved many babies' lives through this program.  We are so thankful for the donors who make this possible.